Jenny's story
05 Oct 2020
Patient Care Stories
"Hi, I'm Jenny. I've had support from a Community Nurse specialist from the Hospice in the past but more recently I stayed on the Inpatient Unit during the Coronavirus pandemic. Before we went into lockdown I was also attending Day Hospice, I'd been to four sessions and I loved it.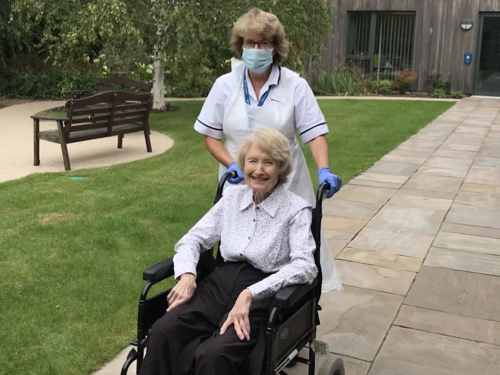 Lockdown was incredibly isolating for me. My family don't live near me and because I was shielding I was completely cut off. No-one could come and see me and for a period of that time I also lost the ability to walk - I had to hold on to the radiators to get around the house. That was around the time that I came into the Inpatient Unit at St Peter's Hospice.
It was an enormous relief. I didn't feel any kind of concern about leaving my home during the pandemic, I wasn't functioning alone at all.
I'd been on my own for four months, and I was starting to feel quite desperate about how I'd cope for much longer. Even small things like getting some shopping were impossible, and for a time I couldn't get out of bed. It's only now when I look back that I realise just how lonely and vulnerable I felt. When I spoke to my family on the phone I wouldn't confide how I was actually feeling as I didn't want to upset them, but when I'm at the Hospice with the staff and people who are in a similar situation to me, I can be completely honest. It's such a huge relief.
The staff here have been so good to me, I'm not alone anymore. I'd completely lost my confidence and now I have it back. If I'm honest, I can't believe such kindness exists, it's quite an inspiration. Nothing is too much trouble for them, they're really exceptional. I've been spoilt really! I haven't felt at all worried by the pandemic whilst I've been here, I've been supported every step of the way and I've never been left alone.
If I could give any advice to someone who's going through the process of being referred to the Hospice I would say don't be afraid, be courageous and you will reap the benefits. You'll experience such love in the way you're cared for. You will be helped beyond belief and you'll come out of it a different person."
You can help us to continue being there for people like Jenny when it matters most by considering making a donation to the Hospice. 
Back to News