How we continue to care for children
18 Nov 2021
Patient Care Stories
The Hospice is well known in the Bristol area for caring for adult patients, but what you may not know is that our Therapy Team supports children too. In Children's Grief Awareness Week, Pippa, who leads our children's service tells us more about the impact of the pandemic and her hopes for a post-Covid service.
Pippa tells us: "We had a large surge in referrals during the pandemic as emotional support services that would usually be provided by schools were no longer available. Children were based at home, so were more available through the day for online sessions. For younger children, this created a new barrier to therapy, and we had to adapt our ways of working, in order to help them feel safe and at ease working online. Our teenage client base however, were more adept at using video and technology and were able to make therapeutic use of these approaches in creative ways. Many even found the 'distance created' by the technology easier to engage with."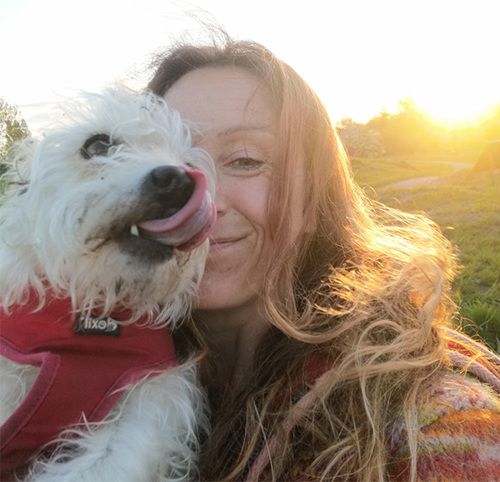 Pippa with her dog Peggy
92% of young people in the UK will experience what they see as a 'significant' bereavement before the age of 16, and recent reports reveal that 80% of young people agreed the pandemic had increased feelings of anxiety and isolation and resulted in increased a loss of coping mechanisms, or a loss of motivation.
"This echoed what we witnessed with our young people where their usual foundations and routines that would have been a support through their experience were unavailable. The stress of online schooling and parents also trying to work from home added to anxieties that otherwise may have been better managed and the isolation of lockdowns left young people open to feeling an increased sense of hopelessness and low mood.
"As a team we had to quickly adapt to working creatively with technology - adapting lots of games and creative techniques for video calls! Pets often played a key part (including my own dog Peggy!) in the breaking the ice and allowing children to feel safe. We also provided a zoom group for bereaved children aged 8-12 years that provided that vital element of finding identification. The parents were supported at the same time through their own group online.
"The groups were really well-received and one child commented that she most benefitted from "knowing that I'm not alone, it makes me more comfortable to go to school". One parent said: "The simultaneous groups for myself and my daughter came along at just the right moment and I do believe they got us out of very deep water in the nick of time. Having a skilled therapist take my daughter away from the edge lifted a huge burden from me and in my mothers' group I've been able to process some of my own grief and normalise a lot of perplexing feelings."
Pippa continues: "I think the work we have achieved against the odds during the pandemic has shown us what else we can achieve in our team using technology, with the potential for further group work. We also intend to invite families back for a facilitated workshop to reconnect with the Hospice if the children were unable to visit a loved one here."
Back to News