How our Nurses have met the Challenge of the Pandemic
12 May 2021
Patient Care Stories
Today is International Nurses Day and we're celebrating all of the hardworking nurses that help to make up the Hospice.
Our Clinical Nurse Specialists, Access Team, Hospice at Home, Day Services and the nurses that work on the Inpatient Unit are there to support our patients and their families each and every day.
Our nursing teams have faced an incredibly challenging year, but have continued to care for and support those in need. Our Director of Patient Care, Chris Benson tells us more...
"In the history of the hospice, this year has undoubtedly been our most challenging yet. End of life care does not stop because of a global pandemic.
"But we have met that challenge with the focus on patient care as it always has been and will continue to be. At a time when people are scared and anxious it has been so difficult for our staff to be hidden by PPE.
"It is at these very times that patients and their families need a comforting smile, their hand held and a reassuring touch. Covid has stopped all that. It's difficult to express the empathy you feel with someone when wearing a mask.
"But our staff are very skilled communicators and have used their skills to work with patients and their families. Those who need our support have all said they still felt very cared for and supported by our teams during this difficult period.
"Our hospice at home and community nurse specialists have still been going out to see clients, each and every day through the pandemic. And there were some risks to them attached to that, especially at the beginning when there wasn't swabbing in place. Our caseloads have increased as a result of people wanting to be in their own homes and not in a hospital or care home environment.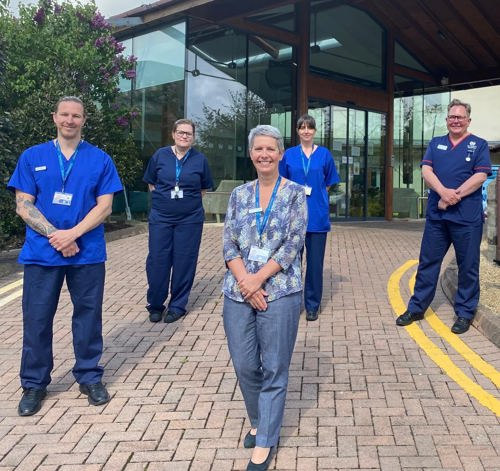 "We have had staff off or self isolating due to covid, but we still have the patients to support. So we have had to redeploy and reallocate staff to ensure we have the cover we need. Our teams have shown incredible flexibility and dedication.
"We have been working more closely with community nursing teams, GPs and care homes alongside other health providers to give advice and support. We have offered free training to care providers and worked with the Clinical Commissioning Group (CCG) and Sirona to ensure we have been offering coordinated support at such a challenging time. I think we will leave this year more connected to the wider healthcare system than we were before.
"There are services in place to support staff through this difficult time. But most of all we have been there to support one another. We are coming out of it now and are hoping we can start to get back to some sort of normal.
"Although it has been the toughest of years, there have been some positive aspects from the pandemic and things we can learn from. We remain very busy and are not yet at a place where we can slow down a little and reflect, but our teams will need to recharge over the coming months.
"We have learnt a lot from the last year and are in a more prepared place to deal with incidents of this kind in the future. But most of all we are looking forward to being able to fill the hospice with the love and buzz it has always had, and all our community patients to be able to be surrounded by the people who matter to them most."
Back to News