How Hospice at Home are Continuing to Care
20 Aug 2020
Patient Care Stories
One of our Hospice at Home nurses, Kate, spoke about what it's been like adapting to a new way of working.
"We visit patients out in the community, generally when they're within, or nearing the final four weeks of their life. We're currently seeing more patients that have tested positive for COVID-19, and many more suspected cases. Not everyone has been able to access testing so we are approaching all patients as though they have the virus. This means wearing PPE (Personal Protective Equipment) at all times. It can be really hard to follow the guidance in these situations. Ideally we'd only have one other person in the room when we're caring for the patient so that we're adhering to social distancing. This is challenging for a lot of families.
Caring in this environment is tough because it goes against everything that feels right. Naturally we want to show empathy and compassion through touch and closeness. We aren't able to hug, or rest a reassuring hand on someone's arm. It has created a barrier which is sad and strange, but we know we have to do this to be able to keep coming into people's homes and delivering great care.
We've also been challenged by an increase in referrals from GPs and the NHS where they have been adjusting themselves to cope with COVID-19 patients. And we lost about a third of our workforce due to sickness and self-isolation.
Overall, within Hospice at Home and indeed the whole organisation, we have dealt with what has at times felt like endless challenges. But we have dealt with them as a team, and are constantly looking out for each other. There have been some wobbles and anxieties but we have got through them together. We're even getting support from our own Hospice therapy team.
COVID-19 is making life at the Hospice hard but it's not stopping us from doing what we do best and that's caring for our patients and their loved ones. Together, with your support, we've got this."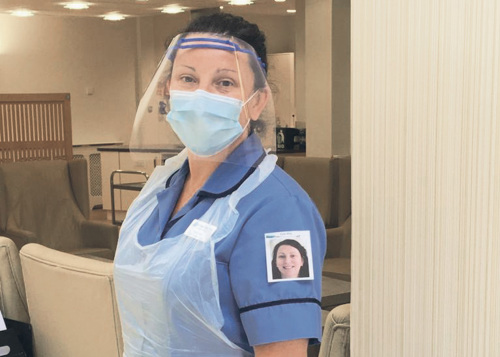 Back to News