Dementia Friendly at St Peter's Hospice
23 May 2019
Patient Care Stories
It's National Dementia Action Week this week, 20-26 May. You might not associate a Hospice with caring for people who do not have cancer, but we also care and support many who are living with other life limiting diseases, including dementia. Last year we had over 180 patients with a dementia diagnosis referred to us and we're working hard to ensure the services we offer to our patients are dementia friendly.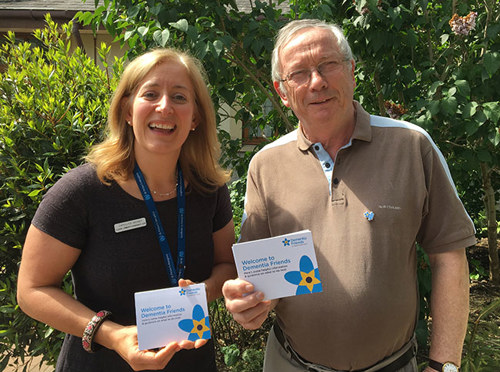 Our Clinical Community Engagement Lead, Caroline Mundy, is heading up the project. She says, "We want to improve the access to our services and be able to understand people's individual needs. In particular we're working to understand the needs of those without a cancer diagnosis who may have another life limiting conditions, including dementia."
Caroline has worked for the Hospice for 14 years and has seen an increasing number of people being cared and supported by the Hospice with dementia as either a primary or secondary diagnosis. She's been the lead for dementia care at the hospice for the last three years, writing an e-learning programme on the subject for all staff and initiating regular study days for local healthcare professionals about End of Life Dementia care.
We're collaborating with other agencies and providers across Bristol including Bristol Dementia Action Alliance (BDAA). Tony Hall from BDAA is pictured here with Caroline. As a result more than 100 members of our staff have become Dementia Friends. Volunteers and staff in our 51 shops have also undergone training.
We're working closely with Bristol's Dementia Wellbeing Service and Caroline has delivered an end of life dementia care training session to its staff. In turn the organisation has provided training to hospice staff on how to improve the wellbeing of dementia patients. We're also working with hospital dementia teams at United Hospitals Bristol and Southmead Hospital. These partnerships are incredible valuable.
"The biggest driver for us is to give the best person centred care and support we can, by working collaboratively we can share ideas and knowledge," said Caroline.
Caroline has also set up a dementia working group at the hospice, made up of members of staff from each department to look at what improvements to dementia care can continue to be made. A special observational tool has already been implemented and is in use at the hospice to help assess patients with dementia pain and distress levels. For those who find it difficult to communicate because of the condition, staff now use patient behaviour and non-verbal actions to assess levels of pain they may be feeling.
"Staff need to be able to understand dementia, be fully equipped and trained to find the best way of communicating with these patients" said Caroline. At our new Inpatient Unit, three of our rooms are more dementia friendly with each having access to an enclosed garden as a safe space for patients to enjoy. There is also a memory box, packed full of activities for patients to enjoy, including books featuring old pictures of Bristol.
"We're not aiming to be dementia specialists, but we want to ensure we are all empowered and enabled to give the best possible care we can. We have deep compassion for people and value each individual. Improving the quality of living and dying is vital." said Caroline.
Back to News