Committed to Diversity and Inclusion at St Peter's Hospice
16 May 2019
Patient Care Stories
This week is Dying Matters Awareness Week, where we've been asking all week Are We Ready? Are We Ready for our own deaths, or the deaths of those we care about? As part of this, we're looking at diversity and inclusion at the end of life.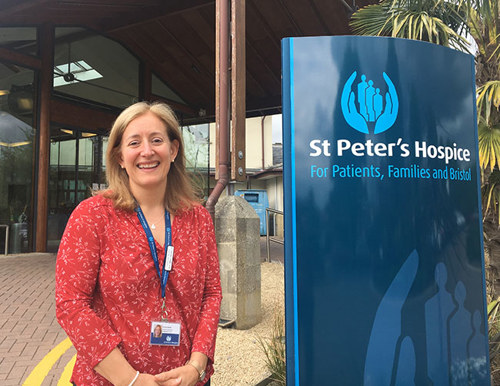 One of our core aims is to provide high quality, dignified personalised care. This doesn't mean treating everyone in the same way but rather responding to the needs and preferences of each person. Everyone truly is different. We value diversity; it is one of the unique features of the wider population of the Bristol area that we serve.
Many reports have highlighted the inequalities that some people face accessing end of life care and support. We're proactively trying to reduce such inequalities in our area and are firmly committed to be inclusive to everyone from all backgrounds in providing support to patients with life-limiting illnesses and their families.
To enable us to achieve this Caroline Mundy, a nurse who has worked for the Hospice for over 14 years has recently started a new exciting 2 year role as Clinical Community Engagement Lead. Caroline worked within the Community Nurse Specialist Team for over 12 years, and more recently was part of the Hospice education team.
Caroline is looking at how the Hospice can continually improve access and equality of access to our services. We want to ensure that what we offer and provide, supports the unique needs of our diverse communities. We are proactively taking measures to overcome challenges that might prevent people from marginalised groups receiving the end of life care they need.
Increasing our understanding is key, as well as strengthening solid partnership working with healthcare teams and local communities. Caroline's role will enhance our community engagement, continue to develop trusted relationships and exchange information that not only will help us understand more but also effectively communicate who we are, what help and support we offer. It is a two way process, characterised by much listening.
We're aware that some needs of non-cancer patients who have a life limiting illness, such as heart failure, respiratory disease and dementia can differ from the needs of those who have cancer. By partnering with such disease specific teams we believe will improve the care and support that is offered. Minority communities, including ethnic groups, LGBT+, people experiencing homelessness, gypsy and travellers, prisoners, people with learning disabilities are all entitled to access and the provision of high quality end of life care.
We have a deep compassion for people and value each individual. Caroline's role provides dedicated time and focus to develop trusted relationships that we believe will enable such care to occur. We will keep you up to date with Caroline's work on our social media channels.
Back to News