Childhood Grief Awareness Week
19 Nov 2020
Patient Care Stories
This week is Childhood Grief Awareness Week. Here at St Peter's Hospice we have witnessed a rise in more complex grief amongst children this year, the lockdowns and restrictions have caused extra stress on the grief bereaved children are experiencing. Often, we'd encourage a bereaved child to integrate back into normal routines as a safe foundation, but that's just not possible at the moment. Children are isolated from their peers, compounding that sense of loss and emptiness.
Seeing this prompted us to respond. Our 1:1 therapy sessions quickly moved online or on the phone which has been a huge success. We've kept in close contact with parents and carers to offer extra support around holding children and young people's grief alongside their own. And we're now responding to the needs of younger children and teenagers by running zoom therapeutic groups to facilitate identification, sharing and connection.
We also offer parents the opportunity to come together via zoom, and share their experiences of supporting their bereaved children, we anticipate this being a hugely powerful intervention that will support the whole family.
Pippa, pictured below, is part of our Emotional and Psychological Support Team.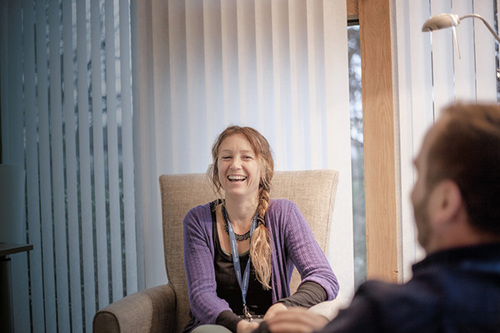 Here's what some of the children said about taking part in the sessions:
"I really liked talking to Pippa, she was friendly and funny and we did activities together to help me to talk about how I was feeling. I have a feelings bottle and a memory box that we made together."
"I found the sessions very good because I felt I could really open up to Pippa about Daddy dying. She would just listen and it's so nice. Basically the sessions were great."
"I love everything about my sessions with Pip and she is changing my life for the better. She is fun, loving, and really understands."
Here's what some of the parents said:
"My daughter has been really struggling after the death of her dad a year ago and I was getting worried about her mental health. But St Peter's Hospice came to our rescue again and Pip seemed to gently lift her away from the edge of an emotional precipice without her hardly realising it. It's such a complex area and hard to describe the relief it feels to to have the continuity of support from these experts."
"I've noticed a big change in my daughter, she became more confident and learned to manage her emotions. Pippa's support meant a lot to us as a family and I don't know how we would have got through this difficult time without her!"
"Having the support of St Peter's Hospice during the end of my husband's life and then the early stages of grief gave my son and I comfort. The team understand what you are going through and help you to deal with the overwhelming feelings that you go through after a loss of a loved one to cancer. It was especially reassuring for me that my son could have specialist child bereavement support during this difficult time."
Emotional and Psychological Support
Back to News