Bob and Harriet's story
01 Dec 2020
Patient Care Stories
Bob and Harriet are both in their 30s, and live just outside of Bristol with their two boys aged four and seven. Ten years after being diagnosed with Malignant Melanoma, Bob was given the all clear and thought it was gone with no issues. Until July this year when he started suffering from pains in his right side, and his chest. After visiting his doctor with a suspected stomach ulcer, a CT scan unfortunately revealed that he had tumours in his liver, pancreas and right lung. The following week he was in A&E and the family had to prepare that he might not come home.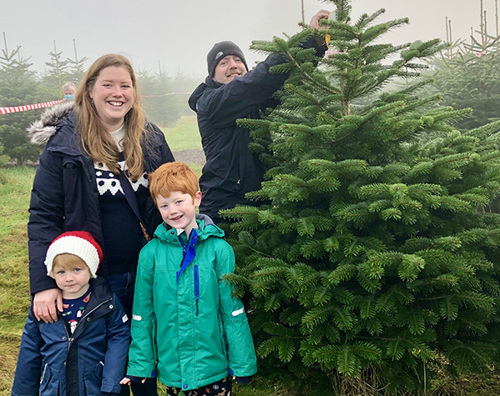 "It all seemed to happen so quickly", said Harriet, Bob's wife, "and it's been a rollercoaster ever since. Bob was referred to the Hospice right away, and although I said we didn't need the help at first, I soon realised we did. There was so much more to consider outside of Bob's short appointments with his consultant. I didn't know how to talk to the boys, how to help them understand what had happened.
Bob's Community Nurse Specialist Emma, comes all the way to support us here in our own home, which is amazing. We were getting so worried about Bob being in and out of hospital because of the pandemic, so knowing that we can do this from home, and get supported here is great. Bob can be here with the kids, and it just makes the whole thing seem much less daunting.
We see Emma about once a fortnight but we catch up on the phone in between that as well. We talk about everything with her, it's so nice being able to get to know and trust someone. She goes above and beyond for us and we even manage to have a laugh with her! When you go into hospital you talk about the big things, but the smaller things are just as important. For example, Bob was suffering with a really dry mouth, Emma got him a spray and now he's able to sleep so much better.
She offered Bob instant access to medication, based on the side effects from all the drugs he's on. It was so easy, and we didn't have the worry of going into hospital. Emma knows Bob's story and knows him, it makes a huge difference.
She's also given us memory boxes for the boys. They have teddies in them so Bob can take one with him, and the boys can keep one each as well. It has all felt really bleak with the children and this is a nice way for us to organise our thoughts and make it understandable for them.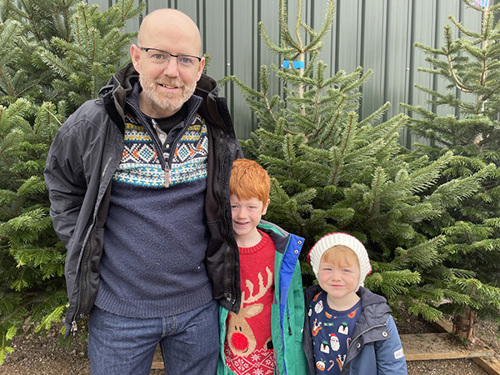 As a family we're starting to get ready for Christmas and planning for Bob to be at home is going well. When we asked the boys what they would like for Christmas our seven year old said he wanted new drugs to make Daddy better, which was heart-breaking. We've been really honest with the boys and we've also been talking it through with Ben, a therapist at the Hospice. He's helped us make sense of what the boys say and do.
It will be a quiet Christmas but it will be so special. Our four year old is already wearing his Christmas clothes and we went to cut down our own tree at the weekend. Due to the nature of the drugs Bob's on, we know that when they stop working it will be fast. But we know that Emma will be here for us when that happens. At one point we didn't think Bob would still be here for Christmas so the fact that he is, and that he's here at home with us, means everything."
Please donate today to give the gift of family memories this Christmas, when it matters most.
Back to News