CEO Frank looks back at last year
22 Mar 2021
News and Updates
Last year we faced the extraordinary challenge of sustaining our patient and family services in the midst of a pandemic, while suffering a dramatic loss of income from the closure of our shops and fundraising events.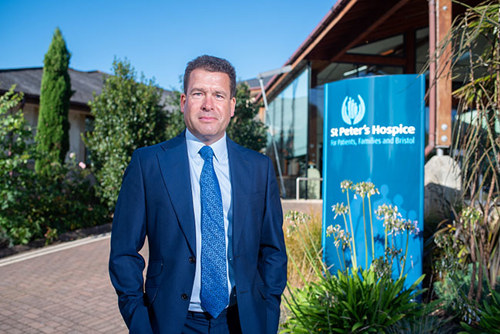 However, with your support we were able to continue our vital care to patients and their families. You stayed with us, supported us and we are truly grateful for your kindness.
I would like to share with you a review of our services in 2020, that without you, we could not have provided. And as we look towards a 'new future', one that is hard to predict, we know that our staff will always do what they do best - offer the very best compassionate care and support to our patients and their loved ones.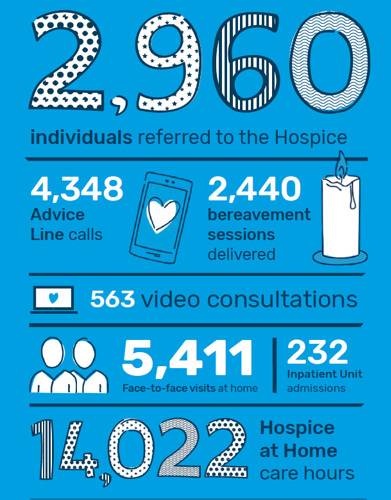 2,960 individuals referred to the Hospice
412 of these referrals were friends or family members of patients who were able to receive emotional and physiological support.
2,440 bereavement sessions delivered
This includes sessions for children and young people, and sessions led by trained volunteers. This is a 22% increase from 2019.
232 Inpatient Unit admissions
Despite reduced beds, and visiting restrictions, the Inpatient Unit still supported 232 patients.
4,348 Advice Line calls
Advice Line support has continued to have a huge demand throughout the pandemic. Calls we received increased by 64.3% from 2019.
5,411 face-to-face visits at home
Despite the challenges last year, we were still able to carry out some home visits in a safe way, this included physiotherapy sessions.
14,022 Hospice at Home care hours
Out of the 5,411 face-to-face visits we provided 2,304 were from Hospice at Home which equates to 14,022 care hours. These are direct care hours delivered to patients in their last days of life.
563 video consultations
This includes video consultations delivered – for example, a Community Nurse Specialist nurse directly calling a patient, or someone attending Day Services virtually.
Back to News