We Love a Bit of Cricket!
04 Mar 2021
Fundraising Stories
Bohemians CC Support St Peter's Hospice for 2021 Season
Bohemians Cricket Club, a division 2 club based in Filton, have been long term supporters of the Hospice with regular fundraising efforts over the years, including taking on the Bristol 10k in full cricket gear! This year they have chosen to go one step further with their support by using the St Peter's Hospice logo on their playing shirts. A percentage of all shirt sales will be given to the charity and the club will also be running fundraising events throughout the season.
Steve Lewis, Club chairman said: "Given the last 18 months have been difficult for lots of charities, we wanted to give thanks to the great work St Peter's Hospice has done in the community over the years and support them in this way."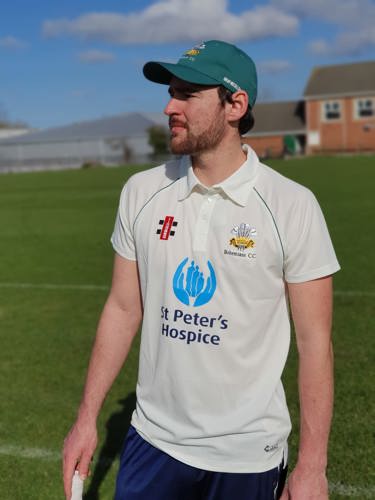 Here at the Hospice, we've been impressed with our community's efforts to fundraise for the Hospice throughout such a challenging year, and now that we can start to see a light at the end of the tunnel, we're excited for all the opportunities that lay ahead. Community groups, clubs, schools, sports teams and faith groups make such a difference to the Hospice, and we're so grateful to be chosen by members of the club to be supported this season. Every pound raised will make a difference to our patients and their families, when it matters most. 
If you're a member of a group that could support St Peter's Hospice, we'd love to hear from you. We can offer fundraising resources, ideas and support, and we love an invitation to come along to your events or give a talk to your members. We're only an email or call away! You can contact Esther & Clemi, St Peter's Hospice Community Fundraisers by emailing community@stpetershospice.org
You can follow the Bohemians CC fundraising journey and support their efforts here. 
Take a look at our A-Z Fundraising Guide
Back to News