Theo cycles Mount Everest
07 Apr 2021
Fundraising Stories
Bristol teenager Theo has cycled an incredible 8,848 metres - the height of Mount Everest - to raise money for the Hospice.
Theo, 13 took on the vEveresting challenge over the Easter weekend after being inspired to raise money as both his mum Fiona and Auntie Vanessa volunteer for the Hospice.
Theo started the challenge on his turbo trainer at home at around 5.30am and finish at around 10pm, with short breaks allowed but no sleep.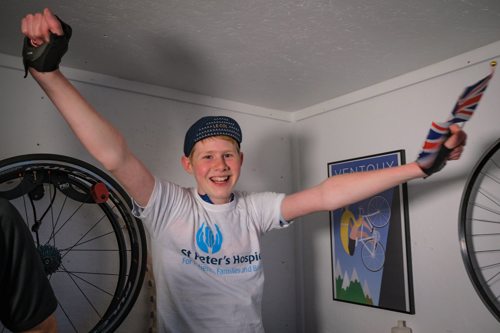 Theo hoped to raise £8,848 (the height in metres of Mount Everest) via his JustGiving page but he has already beaten his target and raised well over £9,000.
Theo even received messages of encouragement from cyclists Mark Beaumont and Geraint Thomas.
The Hospice would like to say a huge thank you and congratulations to Theo for taking on this amazing challenge. You are a total inspiration!
Donate via Theo's JustGiving page
Discover more Fundraising Ideas
Back to News