The Freemans' story
16 Oct 2020
Fundraising Stories
One of our amazing supporters, Tim Freeman, is urging people to help fundraise for the Hospice.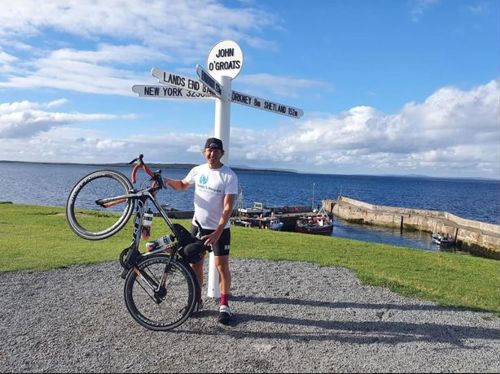 Tim's father, Mike, was the first person to be cared for at the new Inpatient Unit when it opened in November 2018.
Mike was diagnosed with bladder cancer in the spring of 2018. He underwent chemotherapy, radiotherapy and immunotherapy but the cancer spread to his liver, spine and bones. Mike was referred to the Hospice for help controlling his pain. As well as spending time in the Inpatient Unit, he was supported by our Community Nurse Specialists at home.
Mike was cared for by the Hospice until he died on December 12 2018.
His family have been fundraising for the Hospice ever since and have so far raised an incredible £32,000. This year, Mike's three children Tim, Johnny and Polly are taking part in the Tour de Bristol Virtual Ride.
Tim spoke to us about his reasons for helping the Hospice.
"The Hospice was amazing with dad from the care he received from the Hospice at Home team to the support and love he received at the Inpatient Unit. The whole Hospice team are very good communicators and at every stage made him and the family feel safe and cared for.
They supported all of us at what was a very traumatic time of our lives. You don't always know that charities like the Hospice exist until you are introduced to them. Then you suddenly realise that there is this amazing place there ready to support you and your loved ones which is funded by the generosity of Bristol.
All three of us are getting involved with Tour de Bristol this year. It is our way of continuing to give something back to the Hospice for their incredible care of dad and us as a family. Getting involved shows not only how much dad meant to us, but how much the Hospice means to us.
The Hospice was there for dad, and us, when it mattered most and we all want it to be there for the other people who will need it in the future."
Get involved and fundraise for the Hospice
Back to News