Paddling in memory of Caroline
17 May 2021
Fundraising Stories
Iain's Mum, Caroline, was diagnosed with cancer in September 2016. After treatment and assistance at home, she was admitted to the Inpatient Unit at the beginning of 2017 where she was supported in her final weeks.
"It was my first experience of a Hospice, so I really didn't know what to expect. When I first visited, it was such a lovely atmosphere and the nurses were always so helpful. My Dad and sister were able to be there for my Mum most days.
"The level of care that my mum received was just incredible. I'd been thinking for a long time that I wanted to raise money in memory of my Mum, and I managed to rope in the support of my friend Matt."
Iain and Matt eventually came up with the unique idea of paddling from Bristol to London (and back again!), covering 470km and crossing through 248 locks. Team 'Splendid Paddlers' will take on this huge challenge in June.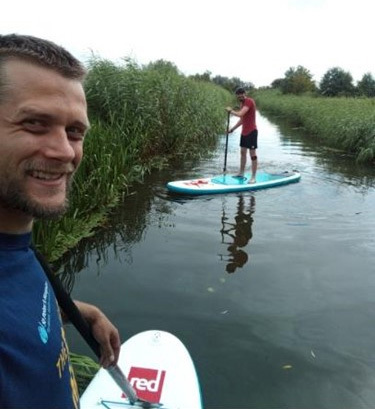 Now, more than ever, we need people like you to join our team and get involved. Whether you take on a physical challenge, hold a cake sale, or take part in one of our events, help us to be there for more patients and families. You can make a huge difference to your community.
We'd love to hear from you!
Whether your a first time fundraiser or you're looking for your next challenge, we've got lots of ideas to inspire you in our A-Z Fundraising Ideas Guide. 
For fundraising support please get in touch with our Fundraising Team on community@stpetershospice.org 
Back to News