London to Bristol in memory of Kathy
04 Jun 2021
Fundraising Stories
Housemates Rose and Brett took on the 130 mile walk in memory of Kathy Berry who received end of life care from the Hospice.
Rose had a close relationship with Kathy, having met at The Bristol and West Progressive Jewish Congregation in Bristol where Kathy's husband, Ron, was the Rabbi.
"I would sit with Kathy and she would tell me stories and we developed a friendship where Kathy became like a grandmother figure for me. Kathy would teach me how to bake bread, and teach me about all the different musical instruments that she had! These are very cherished childhood memories."
Kathy was cared for by St Peter's Hospice in the final days of her life. She received care from the Hospice At Home Team, who coordinated with District Nurses to ensure that Kathy was never left alone. The Hospice's Emotional and Psychological Support Volunteers also cared for Ron before Kathy died, helping him to deal with his emotional upset and worries about his wife's illness and impending death.
"The nurses were like angels of mercy. They ensured Kathy died peacefully, she slipped away from life in her sleep, holding Ron's hand, with their daughter Maria present too."
It was during Kathy's shiva, the week-long mourning period in Judaism, that Rose realised the positive impact Kathy had on so many people which inspired her to do something charitable in her memory.
"Kathy was extremely charitable, kind and caring for others throughout her life. Rabbi Ron told me how well St Peter's Hospice took care of Kathy so we decided it would be appropriate to fundraise for them."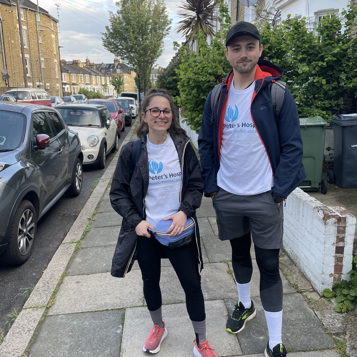 After four days of walking, and the equivalent of roughly four and a half marathons, the pair crossed the finish line on Friday 28 May having raised over £6,000.
"I'm so pleased we were able to do this for such a fantastic cause, definitely worth every hurdle, blister and tear shed along the way!"
Back to News