Kokoro Fitness support the Hospice
12 Jul 2021
Fundraising Stories
A big thank you to Jonathan and Chris of Kokoro Fitness in Iron Acton who have raised £1,265 for the Hospice. They completed a gruelling four and a half hour workout in memory of former member Jo, who was cared for by the hospice before she passed away in June.
Jo was diagnosed with pancreatic cancer in January 2018 and went through months of treatment during which her family said she remained positive and her vivacious personality continued to shine.
Jonathan and Chris asked gym members to sponsor reps of a number of different workout techniques. They committed to perform every exercise paid for, meaning they completed over 2,000 reps each across 25 different exercises over a 4 hour 30 minute intense workout session.
They agreed they would complete the weighted sections using the normal weights they would lift during a regular session. With each exercise having a set price they managed to raise total of £1,265.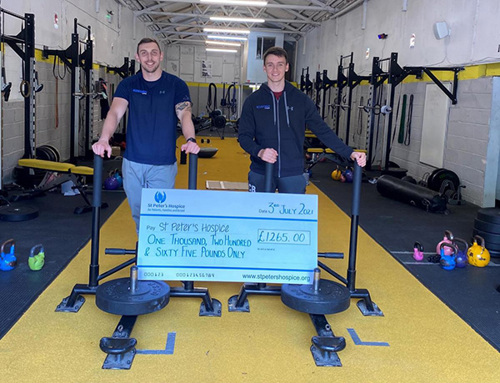 Following the mammoth session Jonathan thanked members for their donations and support. He said: "Thank you so much for everybody who came down today, you actually don't know how much it kept us going. We will not be doing this again any time soon."
Chris added: "The idea was originally Jon's but I agreed it would be a great event for a great cause as it was also close to the heart to some of our members at the gym. Overall it was probably the hardest I've ever pushed myself, and the challenge wasn't just physical but mental and it's fair to say if it wasn't for the support of our amazing members, I might not have made it through to the end!"
Thank you to both Jonathon and Chris for their phenomenal effort, and to all their supporters for their incredible generosity.
Back to News