Bristol Mayor Marvin Rees joins our Daring Abseilers
20 Jul 2021
Fundraising Stories
More than £38,000 has been raised by daring fundraisers for the Hospice after they abseiled down the Castlemead building in Bristol.
Supporters of all ages took on the 242ft descent down Bristol's tallest building to raise vital funds for Hospice care.
Marvin Rees, Bristol's Mayor, joined other participants to step over the edge.
"I had a chance to visit St Peter's Hospice a couple of years ago and had a very special afternoon with staff, residents and families. It is an amazing Bristol charity, supporting local people in our area when they need it most."
"It's an honour to be able to do anything to show my support. The Hospice is there for all of us, whatever our background. It has been taking care of us for years and has touched the lives of hundreds of families in Bristol."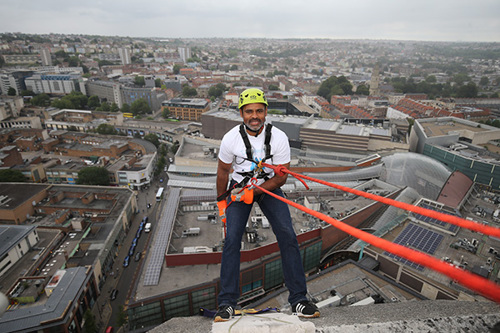 "It's the only adult Hospice caring for local people with life-limiting illnesses. The Hospice's state of the art centre was built with Bristolians' support, to support Bristolians."
"We've seen so many incredible fundraising efforts over the last year or so. If you're feeling inspired to take on a challenge, just go for it!"
It's one of the first in person events that the Hospice has been able to hold since the relaxing of restrictions and is the latest in a series of fundraising challenges.
Hayley Ali, our Events Fundraiser said:
"We were so excited to be holding this new challenge and being able to do it on such an impressive building right in the heart of the city! Looking up from our registration table on the ground, it was breath taking how high Castlemead stood and the scale of the challenge our brave supporters were taking on."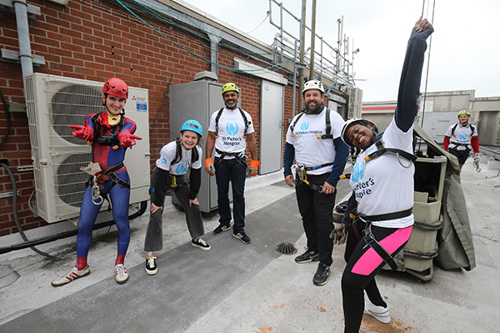 "We're completely blown away by the generous support. After not being able to hold fundraisers in person for such a long time, this total means so much to us and will help make sure that we can continue being there for local patients and their families during the most difficult of times."
Back to News